Outdoor Wood Burning Firewood Kiln Dryer – Drier .
HyProTherm Outdoor Forced-Air Furnace Firewood Kiln Dryer .
HyProTherm Forced Air Firewood Kiln Dryer Wood Burning Drier
Firewood Kiln for Sale
WE have a firewood kilns for sale! You just supply the building!
We have people using shipping containers, basements and many types of insulated building to store their firewood in!
We have never has a used firewood kiln for sale because they never go bad, so no one ever gets rid of them!
If your want to know how to build a kiln for drying firewood, please give me a call for pointers and ideas. We have folks using our small firewood kiln ThermoWind powered forced-air furnace. We have a fellow in the UK that we shipped one of these overseas for and he is extremely happy, using a shipping container.
Firewood kiln dryer can refer to two different things.
A firewood kiln dryer can refer to drying firewood in a kiln but it can also refer to a firewood burning furnace to heat a kiln.  
We have sold several varieties of our front loading furnaces as shown below with their prices but we have an even better forced air wood burning furnace that can be loaded from the top, with a lid that opens almost 90 degrees and can easily be loaded with heavy equipment instead of loading manually by hand.
This is our most popular wood burning boiler and now we have built a forced air version without any water that is tremendously well suited to heating a kiln.  We are currently building one for a customer in Tennessee.
We sold a ThermoWind 4000 kiln drier to a customer in the UK who has had tremendous success with zero complaints.  The TW4000 is a front loading forced air furnace with a firebox that is 59 inches deep and will heat a home that is 10,000 sq. ft., quite easily up to 75F degrees or whatever you want it to be.  I am just giving that figure so that you can relate to the heat output that it will sustain.  This customer is using a very-well insulated boxcar to dry his wood and this is what a lot of customer use to dry their firewood, slabs, 2x4s or any other wood such as used for furniture or any other wood that needs to have a low moisture content.
You Need a Commercial Firewood Kiln
You need a commercial quality kiln because most customers need to get rid of the insects that is in the wood and this is done quite easily by heating up the kiln to 160F which is the "sterilizing temperature".  However, our forced air firewood kiln drier will heat to a temperature of 260F for those that desire it, because our air-cooled motors.
We have a customer that wants to dry several cords of wood and do it in one day as opposed to two to three days.  With firewood, it doesn't matter how fast you dry it because it doesn't matter if it splits or dries incorrectly because all you want to do is get the moisture content down to less than 20%; which is what these new EPA regulated white tag boilers require.
Read on to find out about the correct firewood kiln temperature and how to dry firewood from home using our commercial firewood kiln!
The furnace shown above is the boiler version of our top loading forced air firewood burning kiln drier, which includes two 2100 CFM, 3 speed blowers which will are over 2000 CFM for maximum air flow and minimum drying time.
The boiler type (above) can be used with heat exchangers with fans to blow hot air into the building using much smaller piping; one 4″ as opposed to FOUR 12″ ducts.
The furnace you see above will look different because it will be fitted with the two blowers as shown below)  with an air jacket and distinct air passages surrounding the firebox, instead of water just like our traditional front loading forced air furnaces.

CLICK on ANY PHOTO BELOW, and then click again
on the photo that opens up
to get the BIGGEST PHOTO!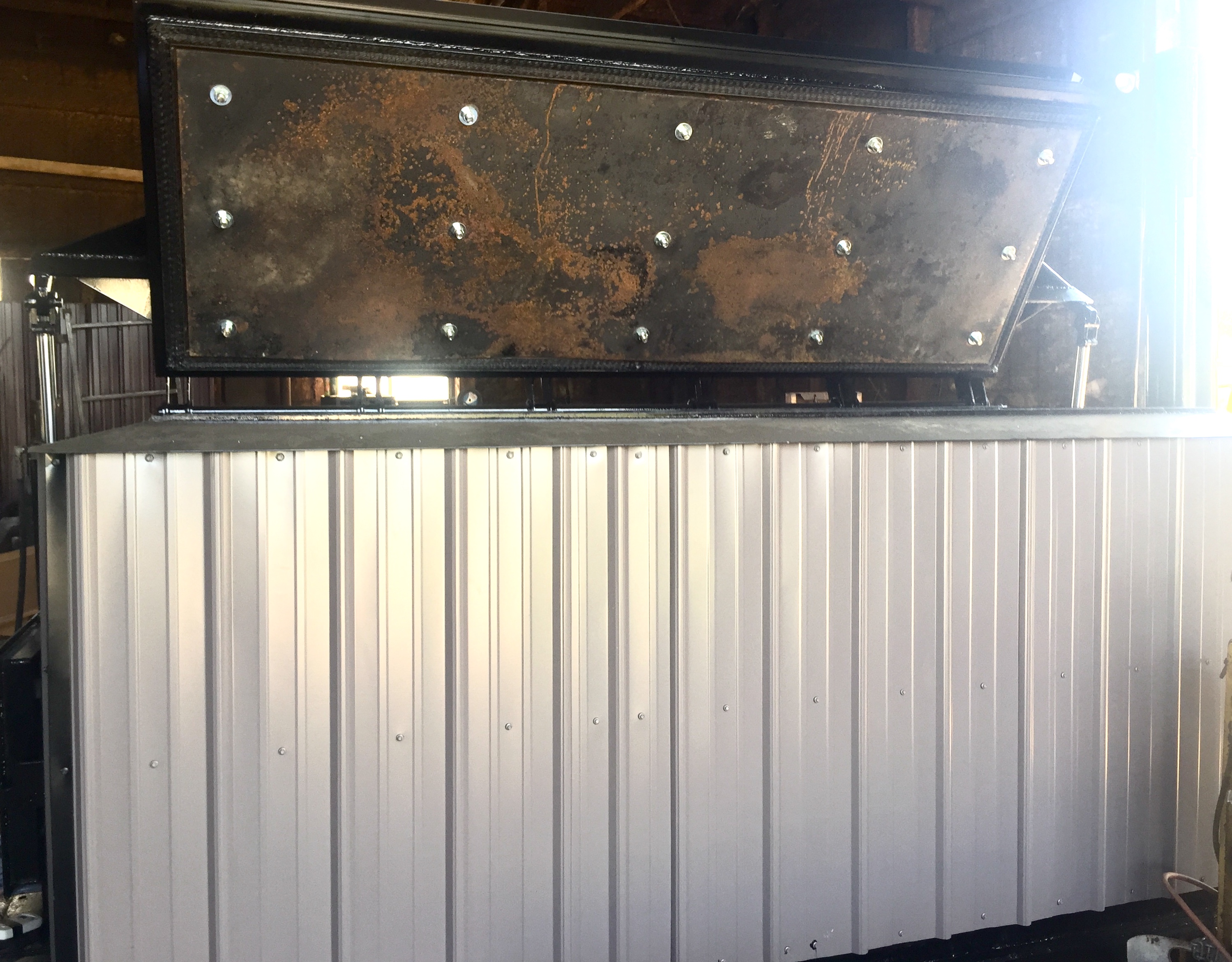 The lid open on the forced-air top loader kiln furnace.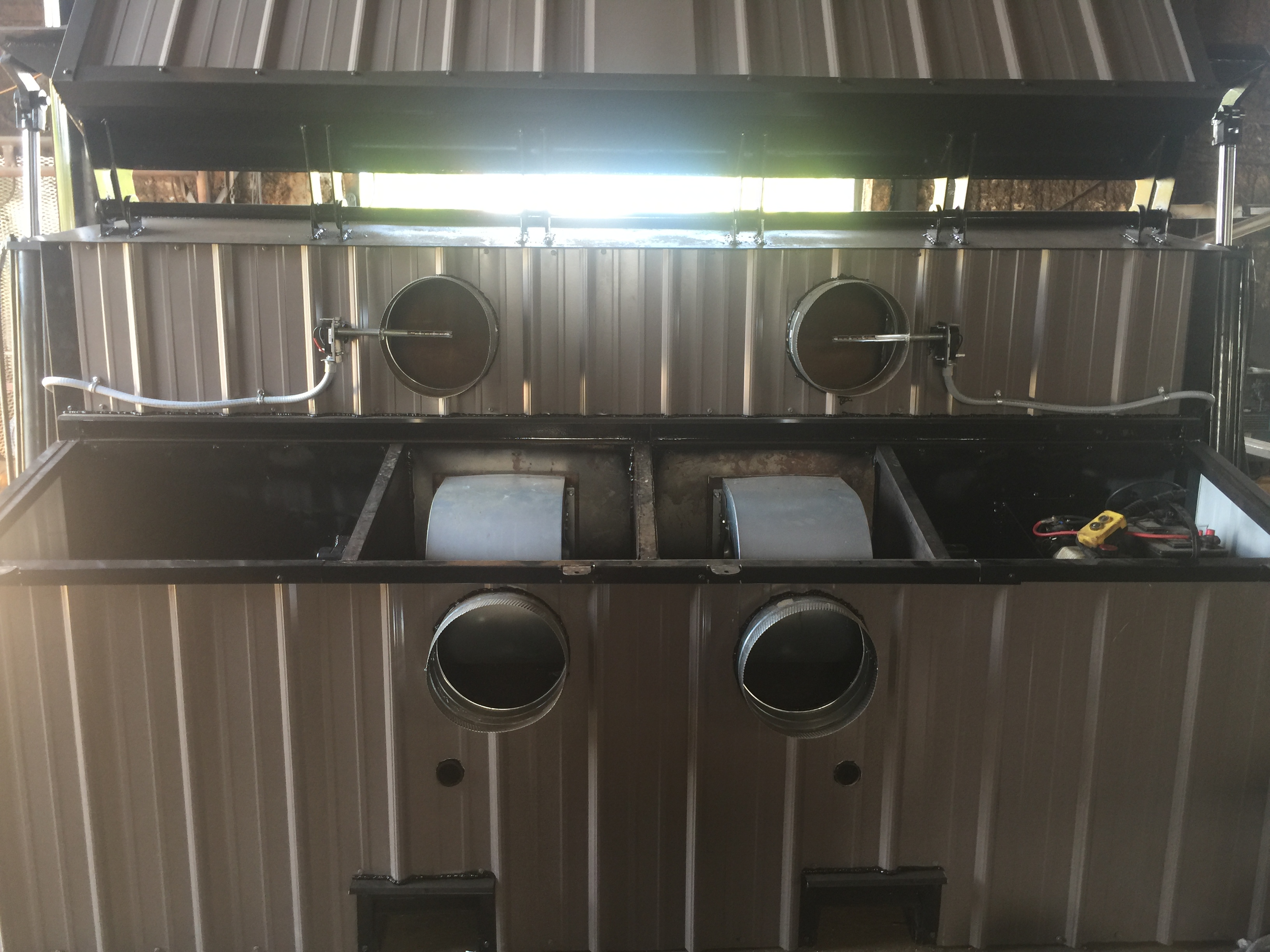 A look at rear with the deck lid off.
(Yellow switch shown is temporary test switch for lid)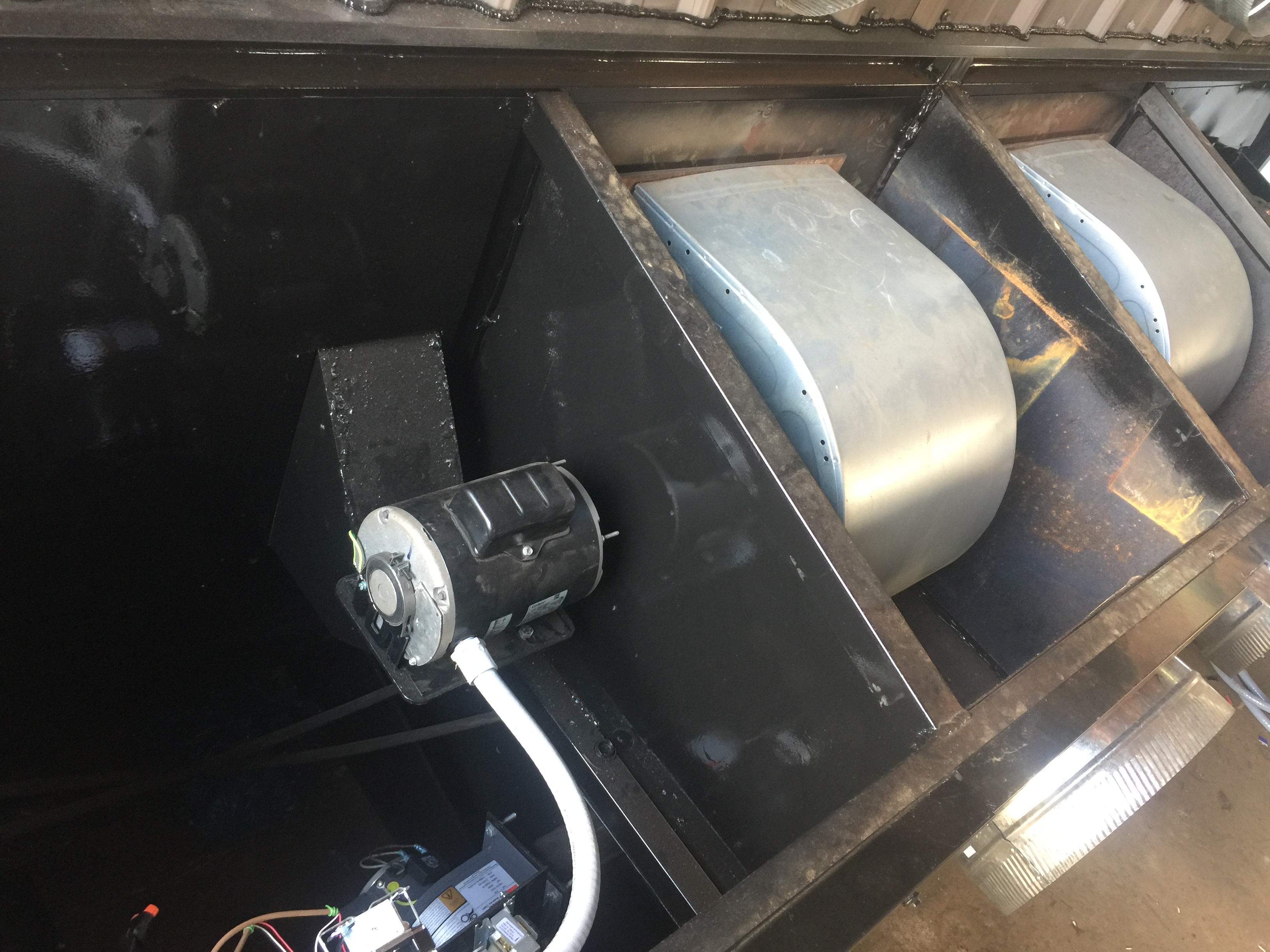 These fans have optional external air-cooled motors on them so that they can stay cool and
are not effected by the high temperatures of a kiln dryer.

The air temperature is thermostatically controlled. You can easily set the output temperature yourself; easily exceeding the 160F inside wood temperature required by USDA.
(Yellow switch shown is temporary test switch for lid) 
How to Dry Firewood at Home
What you are seeing here is the heating side of a firewood kiln.  You would use a building, that is well insulated to stack your firewood for drying.  The outdoor furnace would be connected to it with 12″ round ductwork (supply and return) which can easily be purchased from a Lowe's, Home Depot, Menards or your local HVAC supply.
We have one customer that is using a hightop to store their firewood for drying and they chose to have it open on the opposite end to exhaust the hot air, along with the extra humidity associated with drying the wood.  However, these can be set up as many of our customer do, with the exhaust being fed back into the furnace to be reheated.
Dry wood (below 22% MC) will not decay, mold, mildew, or stain. At lower MC levels, there is not enough moisture for the fungi that cause decay, mildew, and so on to grow.•
Dry wood is much lighter in weight than wet wood. For many species, dry wood is nearly half the weight of wet wood. As an example, an "18-wheeler" can haul only about 7500 BF of green oak without exceeding the load limits, but can haul 12,500 BF of dried lumber.
Here is a valuable resource with a lot of information about a firewood kiln from the Federal Government.
Firewood Kiln Temperature
Our wood burning outdoor furnace will easily exceed the 160F inside wood temperature required by USDA.
These top loading forced air kiln dryers can be fitted with hot water heating coils; in the lid which is filled with vegetable oil.
Our top loading boilers use to have water in the lid and water in the base with a pump to circulate the water to prevent hot spots.  However, obviously a kiln dryer normally does not use water and is more efficient dealing with forced air heated to the appropriate temperature.  Some people prefer a boiler type and they use a hanging heat exchanger in the building to heat the air but it is commonly known that forced air furnaces are at least 20% less expensive without piping needed or the expense of a heat exchanger in the building to dry your slab wood or firewood.
Depending on what you want to burn and how often you want to load your kiln dryer, we have several sizes available from our baby 433 Model for approximately $11,500 up to $34,468 for a forced air furnace that will burn slabs up to 11'6″ long.  The firebox size is 12′ long but we require 6″ air space around the wood for proper air flow.  We also have a model with a firebox that is 14′ long but is more money because steel does not come standard in 14′ lengths so it is special order and therefore costs more.
Top Loader Specific Options
            $220    wireless remote
            $252    blue tooth wireless remote
            Add Water/Vegetable Oil in lid to WaterLess Lid models or Forced Air Top Loader models
                        4' – 6' WTC models add $1050
                        8' – 9' WTC models add $1,959
                        10' – 12' WTC models add $2,215
                        14' WTC models add $2,750
$2,500 Upgrade any WT 6/6 model Top Loader furnace to a (FATL) Forced Air Top Loader
Complete with two separately controlled 2,000 CFM blowers for heating two separate zones (credit $400 remove one 2,000 CFM blower). 
$450 Upgrade (each) internal 2,000 CFM blower on a forced air furnace to an external blower for use in Kiln type settings of 150 degree or less
$1,369 Call for price quote to Upgrade (each) internal 2,000 CFM blower on a forced air furnace to an external blower for use in Kiln type settings of 250 degree or less
Removable ash pan
            $2,200   Fork removable ash pan attachment (new models only)
            $2,720    Upgrade fork removable ash pan adaptor kit (existing top loaders) 
Please give me a call with any and all questions,
 9 AM-9 PM ET including Saturday at 828-683-8055
Let me know your requirements as to what you are trying to dry or heat and I will give you my best advice.
ThermoWind Water-Less Forced-air Furnace

ThermoWind 1000 coal $4967
with flat cast iron coal grates – add $172 for shaker grates
ThermoWind 2000 coal $5727
with flat cast iron coal grates – add $344 for a set of 2 shaker grates
ThermoWind 3000 coal $6187
with flat cast iron coal grates – add $344 for a set of 2 shaker grates
ThermoWind 4000 coal $7817
with flat cast iron coal grates – add $516 for a set of 3 shaker grates
---
Nature's Comfort Boiler
and HyProTherm OUTDOOR COAL BURNING FURNACE
Get a Superior COAL Boiler!